TRACKER™ HT MWD

Positive Mud Pulse MWD System for High Temp Applications
Drilling in high-temperature formations, such as the Haynesville Shale or the Eagle Ford, can be challenging due to catastrophic damage to downhole tool components such as electronics, batteries, etc. With this in mind, Scout Drilling Technologies built the TRACKER HT MWD System, to overcome these challenges.
The TRACKER  HT MWD System was built with components that make it tough and reliable, with the capacity to handle drilling temperatures up to 365°F (185°C). The Recon Scout HT also offers some of the fastest surveys available, with data transfer rates of up to 2 bits per second and it includes real-time shock, vibration, stick-slip, and natural gamma-ray.
The tool can be down-linked while downhole using flow or RPM commands, providing flexibility for unforeseen events while drilling. It is also capable of dynamic sequencing whereby different data can be provided while sliding and rotating.
The continuous inclination and azimuth measurements are second to none, thus providing early warning for directional corrections.
Features:
Rated to 365°F
200°C (392°F) MCM circuitry Design for Analogue to Digital Converter (ADC)
Qualified 365°F (185°C) Gamma Modules
392°F (200°C) Pulser Driver (Agilis-HT)
Bottom-mount pulser
Flow rates of 125 gpm - 800 gpm
30 lbs/bbl LCM compatibility (with proper mixing)
392°F (200°C) Lithium Batteries
392°F tool interconnects
Memory for diagnostics to help determine root cause of downhole incidents
Continuous inclination and azimuth
Real-time vibration, shock and stick-slip
Flow or RPM downlink
Rotation/sliding modes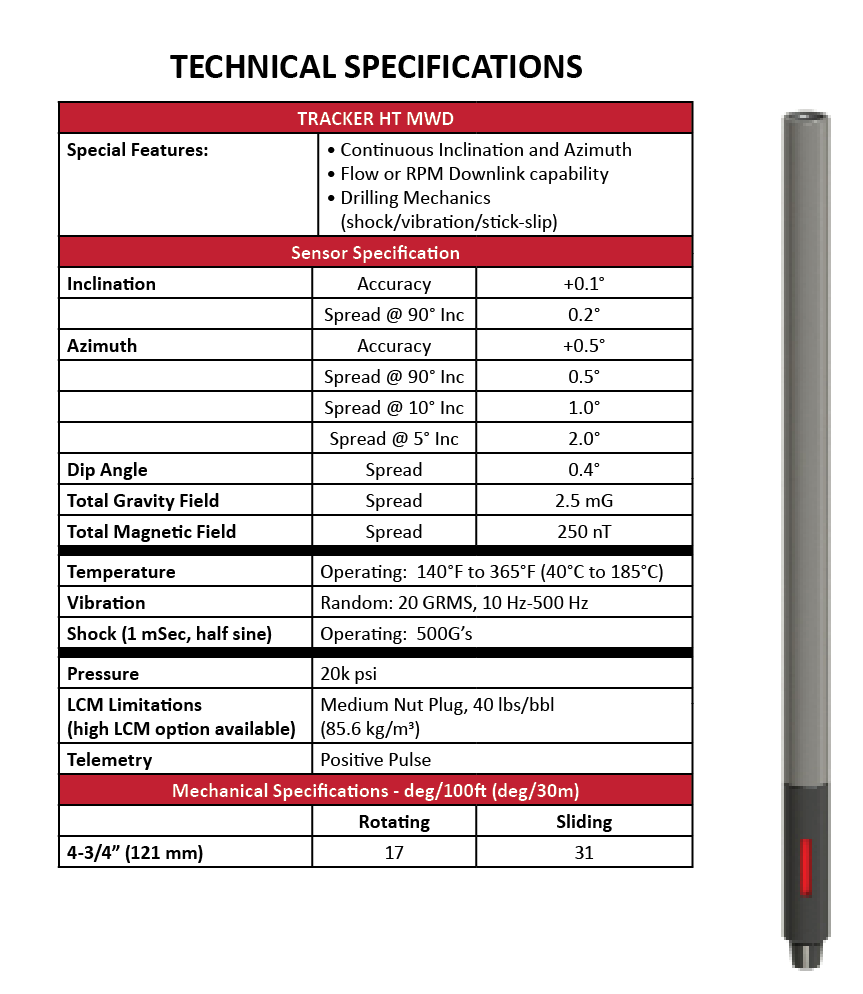 Download Technical Flyer